The Backpack with integrated touch screen Tablet PC!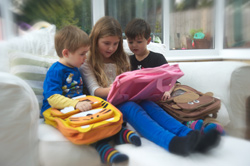 "On the Movies" is a great new range of kids back packs designed to keep both kids and parents happy on the move!

The adorable animal backpacks contain a high brightness 7in touch screen Tablet PC, allowing you to play movies/games, go online on the move!

A transparent window in the pocket of the backpack lets the kids watch, and use the tablet whilst actually in the bag!






The specially designed kids tablets have a coloured bumper protective case. As well as playing movies, kids can take photos with the integrated camera, and play them on their bag. On the movies tablets come with a high resolution 1024 x800 screen, and 8GB storage allowing you to download photos, games. Apps, Music and Movies.. Additionally, up to 32GB Micro SD is supported, allowing you to add more storage as required.

The high quality Dual core tablet comes with a wide selection of Educational and fun games pre-loaded. USB, and HDMI ports allow connection to other computers or TV to download films or more apps.


On the Movies bags come with 8GB Tablet PC, complete with loads of pre-loaded kids apps and games.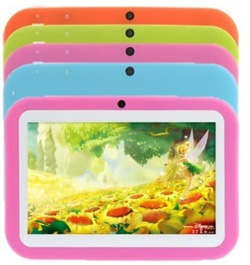 Parental Guidance Apps are also available to lock off the internet if this is required.

The Tablet's battery gives up to 4 hours of play for movies or games, before re-charging is necessary.

On the Movies bags come complete with the 8GB Tablet PC, mains charger unit, and USB/HDMI cable to allow connection to TV or other computers.  

Ear phones can be plugged straight into the player without need to take the Player out of the bag.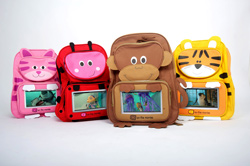 The cute back packs come in range of colours and designs all featuring loveable animals.

Choose from Pretty Kitty, Bouncy Tiger, Cheeky Monkey, and Lucky Ladybird,
Use in the car and hang over the head rest for instant in car entertainment!
Help the kids to learn language, letters and sounds by playing early learning educational programmes and apps
| | | |
| --- | --- | --- |
| | So whether you are travelling by train, car, or waiting at airports "On the movies" will keep the little ones transfixed and amused. | |